Mozilla Blocks Flash – What this Means for Flash Websites
July 13, 2015 will be remembered as the day that Mozilla's Firefox browser blocked all versions of Adobe Flash due to its vulnerabilities - leaving several websites in the dark.  Several tech powerhouses, including Facebook, are calling for the retirement of the browser plug-in that was commonly used to playback music and video in the early 2000s.
But with the rise of mobile devices and the requirement for responsive (mobile-friendly) websites, the Internet has become less reliant on Flash due to the advancement of HTML5 which has been embraced by popular sites such as YouTube - who, as of January 2015, now uses HTML5 as its default player.
One can argue that the anti-Flash sentiment began with the original iPhone with Steve Jobs' open letter on his thoughts on Flash: "…Flash is no longer necessary to watch video or consume any kind of web content. And the 250,000 apps on Apple's App Store proves that Flash isn't necessary for tens of thousands of developers to create graphically rich applications, including games." He continues to say that HTML5 will be the winner for mobile devices as well as PCs.
Google is also on the "Flash Must Die" bandwagon as future versions of Chrome will "intelligently pause" Flash-based ads.
What's wrong with Flash?
Flash is one of the most widely distributed browser plug-ins in the world which makes it a prime target for hackers. While this plug-in isn't the only vulnerable plug-in, it's definitely the most popular and several users - myself included - disable Flash on their browses because of it.
While Mozilla lifted their Flash ban a couple of days later after Adobe fixed two critical vulnerabilities, you can be sure that this ban won't be the last one, so why take that risk?
I have a Flash Website. What Should I Do?
If you have a Flash website, you're due for a website revamp.  The rule of thumb is that websites should be revamped - or at least reviewed - every 2-3 years to ensure that your site's content is still in-line with your business objectives.
I understand that you might've spent a lot of money having a Flash developer design your website with wonderful animation and interactive elements to impress visitors, but when it comes to the Internet, nothing is built to last. Technology is constantly changing and it's time to upgrade your website to one that's mobile-friendly and Flash-free; The last thing that you want is for your users to go to your website and see this on their screen: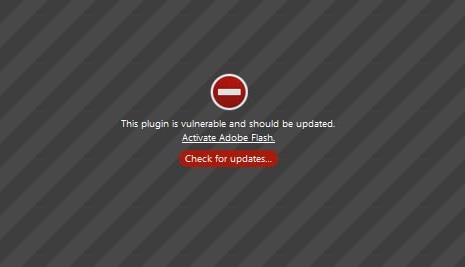 Contact Woodwind Web Design for Your Website Needs
As a musician and web designer, I understand the importance of highlighting your work and professional credits on a musician's website and I've got the technical chops to make it happen. Contact me today for free website consultation at lana@woodwindwebdesign.com.
About the Author
Lana Lee creates and upgrades websites for classical musicians. Her site is Woodwind Web Design. She holds a Bachelor's of Music in oboe performance and a master's in engineering from USC.